All tour information is user generated and although we try our best, we cannot guarantee its correctness. Always consult people with knowledge about the area and get a proper map. If in doubt, hire a guide!
Pass Pordoi, west route
Couloir
Start the "normal" Passo Pordoi route to the Refugio Forcella del Pordoi. Go down the steep first part of the descent south after the refugio then traverse to the right under the cliffs and out on to the ridge. Here it is kind of flat so you might need to walk a bit, it is also kind of steep down on your left side so be careful. After this passage you get to a small slope that ends at the top of a short couloir. Usually fewer that take this route, so you can get some good snow, mostly after you get out of the couloir and on to the wide slopes below it.
Created by: Robert Johansson

Difficulty: S4 - Difficult (<45°)

Danger/Exposure: E2 - Medium/High

Time: 00:45 hours
Total climb: 25 m
Total elevation drop: 712 m
Length: 2.14 km
Highest altitude: 2923 m
Lowest altitude: 2230 m
Slope facing: S
Extra gear: None
Lift access: Yes
Photos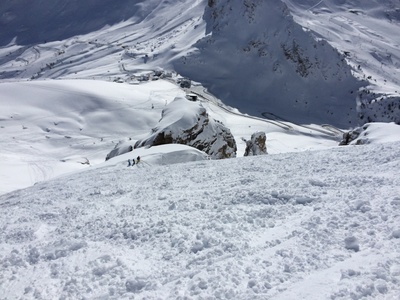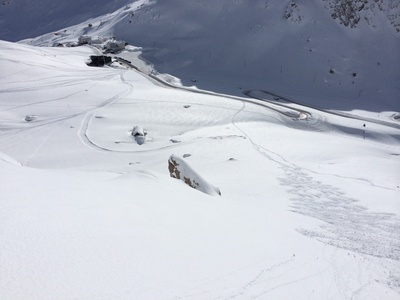 Map
Rating
Overall
Riding
Scenery
Guides on this tour
No guides yet.
Public runs
No public runs yet.
Slope
Negative slope values means the track is heading uphill.