All tour information is user generated and although we try our best, we cannot guarantee its correctness. Always consult people with knowledge about the area and get a proper map. If in doubt, hire a guide!
Sass Pordoi - Standard route
Follow the tracks east from the cablecar station until you get down in the saddle with a refugio. From there head south down the steep slope usually filled with moguls. After a while it widens and offers a wide range of possibilities on the way back to the cablecar station. Quite steep after the refugio, but after that it gets easier.
Created by: Robert Johansson

Difficulty: S4 - Difficult (<45°)

Danger/Exposure: E1 - Low

Time: 00:30 hours
Total climb: 12 m
Total elevation drop: 689 m
Length: 2.01 km
Highest altitude: 2924 m
Lowest altitude: 2239 m
Slope facing: S
Extra gear: None
Lift access: Yes
Photos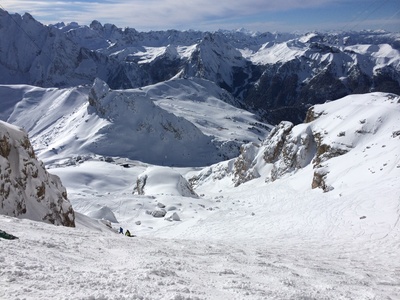 Map
Rating
Overall
Riding
Scenery
Guides on this tour
No guides yet.
Public runs
No public runs yet.
Slope
Negative slope values means the track is heading uphill.